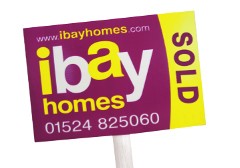 Low Fixed Selling Fees
Proven Track Record
Friendly, Professional Service
Accompanied Viewings
RightMove & Zoopla Listed
SOLD!
Helpful Tips
First impressions – Potential buyers form an impression within seconds of seeing your property. To make a good impression, it's important to give your home kerb appeal so paint the front door, tidy the garden and get out the hanging baskets.
De-clutter – but don't depersonalise – Get rid of all your excess belongings that have accumulated over the years, consider removing any bulky furniture that makes the room feel small and replacing it with smaller furniture
Fix and clean – Make any minor repairs necessary – holes in walls, broken door knobs, cracked tiles, torn or threadbare carpets. Many buyers want to move in without making changes, so allow for this.
Light and airy – Wall mirrors make a room look much bigger and lighter. Consider putting some up, especially in smaller rooms or hallways.  Ensure that you have lamps on in any dark corners.
Get the right smells – Bad smells are the single biggest turn off for prospective buyers. Don't just cover them up, fix the source of the smell. Clear drains, wash bins, open windows, air the kitchen from old cooking smells, get rid of furniture that is embedded with cigarette smoke.
Be prepared for your sale – Engage with a local solicitor, even prior to agreeing a sale. Have all your paperwork to hand – planning permissions, building regulations, insurance etc. Get your financial advice if required.
Just remember that we are here throughout the entire process to answer questions and give helpful advice where necessary.​